Last night's Idol was an educational two hours of television. Our sophomore panel of judges has really settled into the job, developing banter and sometimes completely forgetting that the cameras are taping them. This is great for my job, although I wonder if the judges really want to dive down the rabbit hole this early into the season. How crazy can they get by May? By then, Uncle Steven will be crawling around the stage shrieking songs from his glory days, J. Lo will be wearing live animals as couture fashion, and Randy will finally drop all pretenses of having an English vocabulary and just start talking in gibberish nonstop. Think of what that would do for the ratings!
I mentioned above that the episode was educational, and it totally was. Uncle Steven admitted that was as "confused as a baby in a topless bar." Randy claimed to be "milk" chocolate but agreed to settle for "dark." And J. Lo cleared up the question on every
Oscar
viewer's mind this year by uttering four delightful words: "There was no nipple!" The more you know, Dawgs. The more you know.
Ryan was feeling impish last night, making a point to hide the reveal of Mystery Guy #13 until the final moments of the show. In typical Ryan fashion, though, he teased the hell out of it with all of his – "Find out who the 13
th
guy is … after the break. Only after
that
break. And the one after that." –
nonsense. But I won't keep you waiting, Dawgs, because I have too much class for that. The judges brought back Human Tear Factory Jermaine Jones for a second chance.


How DARE Idol tease me with the prospect of David Leathers Jr. returning and then slam the door in my face? Screw you, Idol. So anyway, the 13 male semifinalists performed last night, and they actually gave some nice performances. The judges, as usual, totally overdid it with their effusive praise. Not to go all "in the old days" on you, but Simon definitely would have had some choice words for a few of last night's performances. I'm just keeping it real, okay? But overall, I'm feeling pretty good about Season 11. I haven't reached my meltdown point yet. (You don't want me to reach my meltdown point.) This … is … American Idol!
Most Likely to Make the Top 5
Joshua Ledet – "You Pulled Me Through"
My early season Joshua Ledet fandom was not in vain. I am so freaking happy about that. Last night, Ryan changed the pronunciation of Joshua's surname from Le-Day to Le-Debt. Apparently, the show doesn't check on these things until the person's important enough to make the live shows. Duly noted. The 19-year-old from Westlake, Louisiana has already been nicknamed "Mantasia," which is seriously one of the worst nicknames of all time. I can't believe that his fans did that to him. Stop it, fans. But goodness gracious, Joshua is insanely talented. Even beyond his technical skill, Joshua's every note and word is flooded with conviction. And somehow, it isn't cheesy. I have no idea how he manages that, but I approve. How about Randy during this performance? He couldn't even contain himself. He was moving around, rocking his head, singing Amens and Hallelujahs. J. Lo loved it so much that she threatened to punch Joshua, who looked appropriately scared. Nuts of wonder, violence is not the answer, J. Lo. The judges goaded Ryan into punching Joshua for them, and how nervous was our favorite pint-sized host? "I'm not a fighter, Jackson. I'm not a fighter," Ryan claimed before tapping Joshua's arm with a feather-light punch that I'm pretty sure a fly couldn't feel.
Heejun Han – "Angels"
This 22-year-old from New York officially has the cutest Idol mom this season. Her dancing was too precious for words. "She loves to dance. She loves to sing. But she's not good at all," Heejun told the camera. But she's the BEST, Heejun! The best. We better be seeing lots of shots of Heejun's mama crying tears of joy in the audience because this guy deserves a spot in the Top 13. Unlike the judges, I thought "Angels" was a great fit for Heejun's buttery tone. When he broke out into the chorus, I even got J. Lo's famous "goosies" (ugh, gooseBUMPS) from the sheer musical joy of it. Also, the judges should have noted that Heejun's pitch was close to Joshua's as the most spot-on of the night. Pitch is a very important thing during a LIVE singing competition.
Creighton Fraker – "True Colors"
Okay, so I'll admit that I haven't been very nice about Creighton Fraker. I called him a douche a few times, and that was very small of me. But he makes it so hard not to make snarky comments when his abysmal hair sports a half mullet and he constantly wears annoying accessories to gain attention. Nevertheless, I feel like I owe an apology to the 28-year-old native South Dakotan living in NYC who often speaks in the third person. Rachel is sorry, Creighton. Rachel doesn't hate you. It's just that Rachel wants you to be all you can be without the annoying personality traits. His performance of "True Colors" was really something special, just gorgeous at a time in the show when I needed a person to slow it down and sing me something pretty. He stayed faithful to the original version but didn't hold back vocally, and it worked so well that J. Lo cried. He made J. Lo cry her own tears! Strangely, between praising Creighton's exquisite performance and patting themselves on the back for putting him on that stage, the judges made a lot of qualifications. They started blathering about how hard it would be to lose people on Thursday night, and it seemed like they were referring to Creighton. Are they intending to lose Creighton? I won't accept that. I really won't. He's MY strange magical unicorn now, and you can't take him away, Idol! NEVER!
Jeremy Rosado – "Gravity"
The only way this kid would be more likable is if you dressed him up in a white wool bear suit and made him the new Snuggle bear. Jeremy got the coveted pre-performance Coca-Cola endorsed interview, which gave Ryan a chance to say something wildly inappropriate that was also funny because Ryan was too naïve to realize it until after the words left his mouth. "I hear that you're the spirit stick of the group." Oh, fiddlesticks, Ryan. The 19-year-old from Florida reminded me of a crucial fact during his biography segment. He worked at an infectious diseases doctor's clinic. Is it possible that Season 11's sweetest, most supportive contestant inadvertently carried the Black Idol Plague to Hollywood? Oh, no! I really preferred blaming that tent girl for it. Jeremy's performance wasn't perfect, I'll admit. He was clearly nervous. But there's something appealing about his voice and his demeanor. With a few more weeks, Jeremy could bring some really good stuff to the show. Plus, JENNIFER LOPEZ gave him a nickname, Jer-Bear. Who can say that J. Lo gave them a nickname? Only Jeremy Rosado!
Deandre Brackensick – "Reasons"
So I realize that Deandre's hair is his trademark, but maybe we could think about cutting it? He has such a handsome face, and the hair, while lustrous, kind of gets in the way sometimes. I don't know. Am I being unfair? I'm being unfair. Anyway, this 17-year-old from San Jose, CA really loves his family. His family, in turn, released some truly precious footage of a young Deandre dressed in a band uniform dancing and marching to "76 Trombones." Thank you, Brackensick family! Vocally, Deandre's performance was solid. His control over his falsetto is out of this world, and his range is brilliant. However, I have one problem with the performance. Earth, Wind & Fire? Really? This kid was born in 1994-1995, right? I'm not saying that there's anything wrong with listening to Earth, Wind & Fire. Don't be offended if you do. But child, your MOM was still a kiddo when they were popular. Luckily for Deandre, the judges could still see his commercial appeal despite the song choice.
Aaron Marcellus – "Never Can Say Goodbye"
This poor guy. "I'm a regular dude who has a big dream," Aaron said in his interview, a perfectly pleasant, perfectly attractive candidate for the American Idol. Sadly, the show doesn't seem all that interested in him. Last night, I learned that the 27-year-old grew up in Atlanta and moved to NYC to pursue his dreams. He teaches voice lessons and takes dance classes. I'm assuming he probably takes in homeless animals and works at the food bank, too. He's a totally cool guy, but I keep forgetting he's a person. The editing on Idol is a real killer sometimes. So I'm not sure if his rousing performance of the Jackson 5 hit will keep him in the competition. It probably should. He hit a blazing falsetto note at the end of the song and worked the stage like a pro, bringing the judges to their feet. Unfortunately, on a show of horrid personalities, Aaron might be overlooked. I don't know. Maybe America will surprise me and vote him into the Top 5 guys, but I have a feeling that the judges will have to save him with a Wild Card pick.
Phillip Phillips, Jr. – "In the Air Tonight"
It's probably useless putting Phil in this category. I predicted last week that he'll likely win this thing, and I'm sticking to that. He's white, good-looking, plays the guitar, and sometimes sings like he's giving birth to a sheep. America will love him, and so do the judges. This 22-year-old pawn shop worker from Georgia is Idol's bread and butter, but I have to take him to task for that performance. It wasn't very good. In fact, the growling and melodic choices were rather weird. Phil's obviously a cool guy, but his musical style doesn't really mesh with my tastes.
Jermaine Jones – "Dance With My Father"
The chances of the judges bringing the Gentle Giant back a second time are slim to none, but Jermaine did deliver one of the better performances of the night. His low voice would really fill out the group numbers, and I love how his mom dresses him in jaunty plaid bow ties. (You know his mom dresses him.) Randy pretended that he's never heard a low voice until Jermaine joined the show, which is strange because Baby Lock Them Doors won the damn thing last year. Oh, Randy.

And who could forget THIS GUY?
That's all For Now, Thank You
Reed Grimm – "Moves Like Jagger"
When discussing his hometown of Ellsworth, Wisconsin, 26-year-old Reed mentioned, "We provide a lot of cheese to the Midwest." Oh, no, Reed Grimm. I believe that YOU deliver all the cheese to the Midwest. Just you. "Moves Like Jagger" is already one of the most overplayed songs on the radio, and Reed didn't do it any favors by … screwing with it the way he did. I'll let my un-edited notes during this segment do the talking:
-

What is this skeezy lounge version?
-

Did he swear, or is my TV just rebelling?
-

This is incredibly gross. Stop it, Reed Grimm!
-

Oh, and now he's playing the drums.
-

Did he just pull something out of his junk?
-

God, that was the worst. What the hell was that?
-

RANDY'S SHIRT! RED POLKA-DOT COLLAR. He liked it.
Seriously, he pulled something out of his crotch, and it was awful. And nuts of wonder, Randy's shirt. Did you see that atrocity?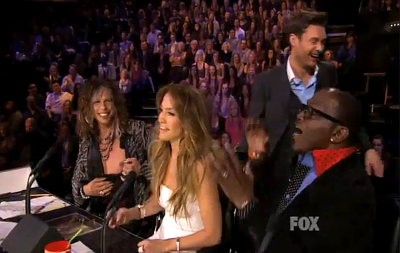 Pictured: Randy's hideous shirt
Adam Brock – "Think"
I feel really sorry for that poor large black woman who's apparently trapped in Adam's body (according to him) because she must feel like she's drowning in mediocrity. Oh, I know I'm absolutely horrible for picking on the 27-year-old Washington, PA native. But from one PA resident to another PA resident, you're kind of boring when you sing, Adam. Sure, he can carry a tune and seems like a nice enough guy when he isn't exploiting his child. Unfortunately, this becoming a superstar thing isn't going to work out for him. On the bright side, Adam has a really nice house and a chef's degree from Le Cordon Bleu. All is not lost in that world.
*If you're a Colton Dixon fan, you may want to stop reading now.*
Yikes, what a hot mess! This 20-year-old who lives out of his parents' sprawling mansion in Tennessee doesn't want to let his sister's elimination drop. Is he using the poor girl for votes? I think it's time for Colton to cool it with the sister references. If Schyler comes back next year, I don't want to hate her because he won't shut the hell up about it. Colton isn't insufferable like Reed Grimm. He seems to have a nice personality, and I even laughed when he talked about the animals in the forest surrounding his house and said, "I'm sure Skylar Laine would love to come and shoot them." I bet she would. Alas, Colton gave a very, VERY awfultastic performance. He just screamed and moaned a lot, and most of that screaming and moaning was flat. And still, he worked the stage like a rock star, shaking pre-teens' hands and spreading his skinny legs into a wide base while making sure his disgusting skunk hair caught the lights. Then the music took off without him, and Colton struggled to keep up, screaming some more and even jumping atop the piano. No one has mixed awful singing with such blatant theatrics since James "The Event" Durbin last season. This was the worst. Just the worst. I wish I could have screen-grabbed J. Lo's expression during the middle part of the song because she did not look pleased.
Kind of like this, only with less fringe.
After the performance, though, she inexplicably showered Colton with praise. Randy even called him an "indie alt rocker," and I wanted to punch him in his stupid collar so much for desecrating the good name of all the indie alt rockers out there. Oh, nuts of wonder. Colton's going to make the Top 13, isn't he? I can feel the disaster before it happens.
Chase Likens – "Storm Warning"
Ha! This guy! This 21-year-old Marshall University student from West Virginia will only be a blip on your radar. Seriously. He might not even qualify for that. Allen HATED Chase's performance. He talked all through it. "Oh, he's terrible." And then before the judges started their critiques: "They're gonna act like they like it, but it was freaking terrible!" Ah, from the mouths of husbands who threw a hissy fit because he had to watch Idol.
Eben Franckewitz – "Set Fire to the Rain"
15-year-old Eben lives the type of charmed life that makes his kitchen cleaning duty the most interesting thing about his intro package. He's such a little gentleman. How much did my heart break when Ryan announced that Eben was singing Adele's "Set Fire to the Rain"? So freaking much! "I call it," Allen said. "This isn't a good idea." Indeed, it was a very, VERY bad idea. I have to give Eben credit for trying. He put his whole heart and soul into the performance, but all the conviction in the world couldn't save that singing. His voice is in that funny transition stage where it's changed but hasn't really matured yet, so Eben had to sing in an awkward key that did nothing to showcase his talent. Case in point why 15-year-olds shouldn't be on the show. Eben could have waited a couple years and really done something. Now his dreams are left to float away into the mystical fog of Idol Contestants Past. This is actually a very sad story. I hate it when Idol makes me think like a real person.
Who was your favorite guy, Dawgs? Do me a favor; look at the right side of your screen and VOTE IN MY POLL. Please and thank you. Tune in tonight to watch the Top 12 girls. I really hope the ladies turn out this season. Idol's been casting inferior female talent, and I really want to see more than two girls in the Top 10 this year.
And now a pair of fainting kittens ...